The Branscombe Richmond Fan Page
(after a 6 1/2 year hiatus, it's back!)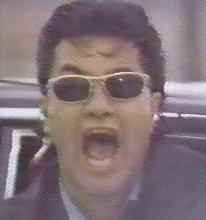 He's been kicked by Chuck Norris and had his butt kicked by every sensei in Hollwoood from Seagal to Speakman. He's been punched by Schwarzennegger and knocked out by Don Johnson. Even old Frank Sinatra put a few fists into his face. And yet through it all, Branscombe Richmond has kept his big smile and even bigger laugh.
N.B. - I first wrote and published this no-frills website back in 1997. Until now, I hadn't edited it at all since November of 1999. I hadn't even visited the original site in over 5 years until accidentally coming across it recently. And I was shocked to see it. Yahoo (who purchased its original host, GeoCities) never took it down. Maybe it generated just enough traffic from the old Renegade fans to survive. But I'm feeling nostalgic so I swipped my own work and moved it to this Tripod site for future generations to admire the overlooked brilliance that is Branscombe Richmond!
Table of Contents
Biography of the Legendary Star
The Renegade Page starring Branscombe Richmond as "Bobby Sixkiller"
The Hard to Kill Page starring Branscombe Richmond as "Max Quentero"
The Hard Vice Page starring Branscombe Richmond as "Tony"
The No Safe Haven Page starring Branscombe Richmond as "Manuel de Cordova"
See Branscombe take on Chuck Norris
Last updated: Monday, 15 May 2006