JeffBriscoe.com
MY TAKES -- BIG DADDY JEFF'S BLOG
---
Saturday, November 4, 2006
BABY -- Little Joey is doing great. He sleeps and eats well and is gradually spending more of his time awake and alert everyday. In the first week or two of life, babies sleep up to 20 hours a day. It's actually pretty easy work for a parent! But as he nears 1 month old, that number is now down to about 10-14 hours/day of sleep. So the key is making sure 6 or 8 of those hours occur overnight when we want to sleep as well! Thankfully, Joe has taken to sleeping in a bassinett in our bedroom much better than Anna (aka "Miss Independent") did last time around.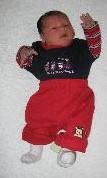 FAMILY -- Dana is recovering nicely. This time around was thankfully a little easier for her. She's on maternity leave from work and goes back later in the month. The other kids are also doing well. Anna just turned 2 and is officially in her terrible two's. She's got the attitude for sure, but is also making so much progress with her speech and motor abilities. Very cool. Jimmy really enjoys pre-K and he's come a long way in his first 3 months of school. Also he is playing soccer in a YMCA 4-5 year-old league. It's been fun for me to be a sports parent for the first time. Halloween 2006 was a great success, as we scored loads of candy trick-or-treating in nearby Englewood with Jimmy as Superman, Anna a cheerleader, and Joey merely a cute baby in his orange onesie.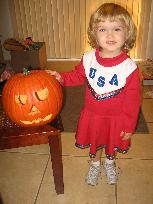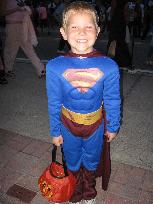 POLITICS -- The forthcoming election is all the news on TV and also fills the politcal thoughts inside my head. I'm a life-long Republican who has become an independent in the past year due to my disappointment with President Bush, the GOP Congress, and the waging of the flawed Iraq War. As a result, I intend to vote for Democrats for Congress and will still support Republicans on the state and local level. We can do no worse with divided government and that's what I hope we get next week.

SPORTS -- Baseball is finished with the Cardinals shocking the world by winning the World Series with only 84 wins. Good for nice guy manager Tony LaRussa. Even better for those of us who feared the NY Mets had a good shot to win it all! And thus football now completely dominates my sporting interest. Florida is having an awesome season in the college ranks and I think the Gators still have a chance at the national title. In the pros, I'm disappointed that the Tampa Bay Bucs and Jon Gruden's pathetic offense have been such a bust this year. The Miami Dolphins are no better at 1-6 after 7 games. At least a couple of my old teams the Atlanta Falcons and New York Giants look like contenders.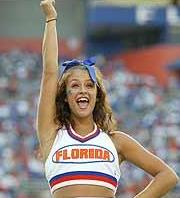 I'm still tinkering with the format, but for now I'll try to update my musings in this spot on this website fairly regularly. As always, I shall try to balance being informative and being slightly controversial. Family, friends, and others -- feel free to leave comments below.